Did hell break loose this time? Well, as mentioned before, we've spoken about when things may beaks loose for real. In episode 4, S.W.O.R.D is finally introduced – wishes that many viewers have spoken about have come true. At the MCU page, some gaps are now filled in.
What we first believed would be some kind of 1980's episode, turned out to be a tinly jump between the spaces of the sitcom reality and the real reality, giving a quite exciting recap from the former episodes. Monica "Photon" Rambeau is also introduced, by being the first S.W.O.R.D agent getting sucked into Westview – who became Geraldine for a short period. The episode ends with what then happened to Rambeau – which has been shown in some of the official trailers.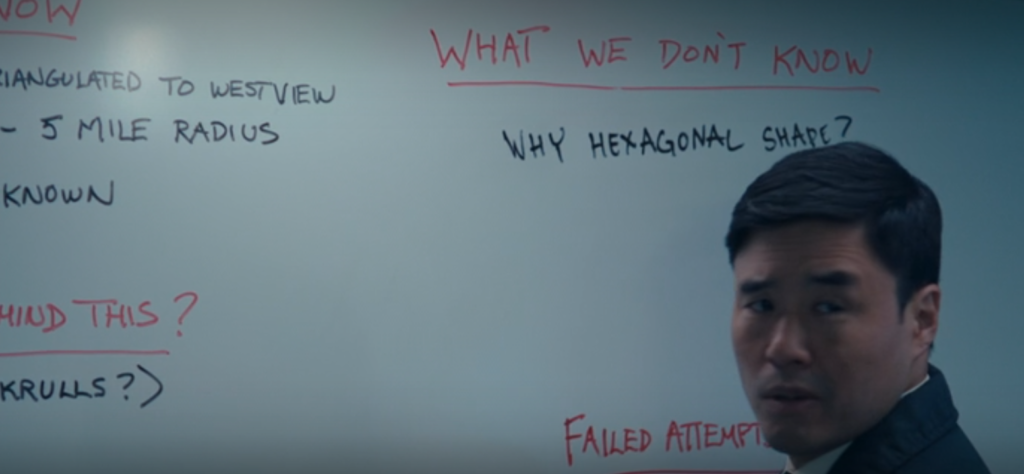 In this episode we will finally meet Randall Park (Jimmy Woo in Ant Man) and Kat Dennings (Darcy Lewis in the Thor movies) that are leading the outside operation. The promises for an accelerating action style series are now in progress. The hexagonal shape and the "Mephisto theory" that has been mentioned a while by both Emergency Awesome and New Rockstars shows up on Woo's border. At the same screen capture at this page, Skrulls are also being brought up as a slight note in the left corner.
From Episode 4 we will also get introduced to the WandaVision's sitcom cast, identified as…
Mr & Mrs Hart: Todd and Sharon Davis.
Norm: Abilash Tandon.
Jones: Harold Copter.
Beverly: Isabel Matsueida.
Herb: John Collins.
As it also seems Ag(atha Hark)ness, don't show up in the cast just yet.
The names in the cast is also real names from the WandaVision production, mentioned in this video.
There are also new breakdowns for this one (currently most of them from Emergency Awesome). The most recent are presented below. Some fans that – this far – seems to be quite newborn to Marvel and the MCU, that asked why the hell WandaVision was a sitcom, also finally got their stupidity confirmed.
Breakdowns
WandaVision Episode 4 Marvel (Top 10 WTF and easter eggs), Emergency Awesome.
WandaVision Episode 4, Doctor Strange 2 Teaser Breakdown.
New Rockstars Episode 4 Breakdown.
Emergency Awesome WandaVision Episode 5 Trailer breakdown.